At Flanary Vet Clinic, we understand how hard it is to leave your four-legged children behind when you must go out of town. We want to make this hardship the easiest we can for you and your pet. We take pride in caring for your pet as if it were our own. You can be confident that they are receiving the care that they deserve and you demand. While we are making sure that they are happy and comfortable, we will also make sure that they stay healthy and safe. We also have "doggie daycare" if you need to leave your pet for a few hours or just for the day.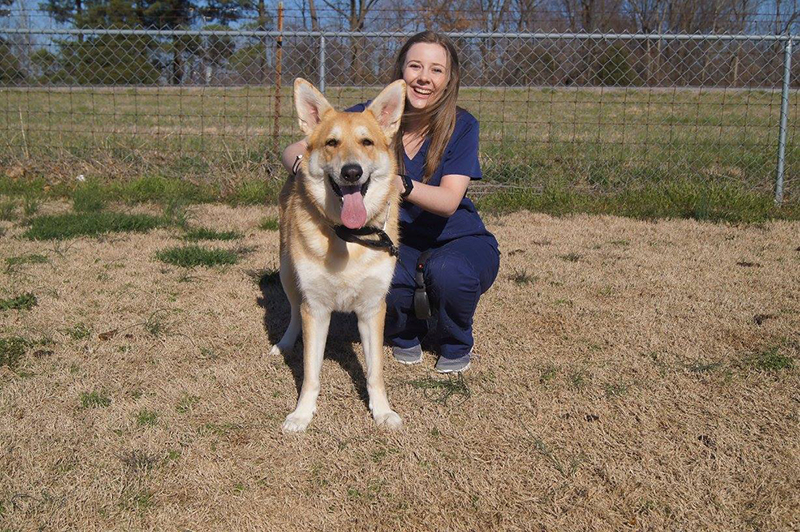 Our trained staff keeps a watchful eye to ensure that important details about your pet's wellness and behavior do not go unnoticed.Many of our pet's parents like to take advantage of the veterinary clinic aspect as well. They often combine a dental prophy/polish or examination with their boarding stay. Because we are staffed with caring and knowledgeable people, we feel comfortable medicating your pet during their stay if needed. All boarding pets are kept in the kennel boarding area of the hospital.
All sick pets are kept separate in an isolation ward, so you never have to worry about your pet getting sick from a stay with us. If you want the peace of mind that our boarding facility can provide, just call us to make your arrangements.
Our facility has two fenced in backyards that allow free roaming for our furry guests. Animals are walked or let out for play time 3-times a day. All of our runs are climate-controlled to provide heating in the winter and cooling in the summer. There is a run we use specifically for larger dogs as well.
You will also receive a picture of your pet while boarding through our PetDesk Pet Portal!
* during a pets stay of longer than 1 night.
We also feature cat-condos, which are climate controlled, and spacious dog runs with two outside fenced in "play areas." Cat Condos allow cats to go up, down, across, luscious space and privacy to themselves. Pets are always supervised when outside and never allowed with other pets unless they are "family."
Upon check-in your pet is personally evaluated, given a "pet-i-cure", "ear cleaning", and gland expression at your request.
Five night stays include a discounted, $20 bath. Any shorter stay includes an optional bubble bath at a 20% discount. We also offer medicated bathing treatments specialized for your pet if your pet requires more than to just get clean and cream rinses to provide a silky coat.
We also offer Treat Time for $1 a night. We spend some extra one on one time with your pet while also giving them an extra treat. Our treats can be upgraded to our Gourmet Claudia Cuisine cookies. Treat Time is our favorite part of the day in the Boarding Suite.
We also provide "Snuggle Time" for a minimal daily fee! This gives your pet one extra one-on-one session with our loving staff.
Our trained kennel staff pamper your pets during their stay.
Get photos of your pet via the PetDesk app once each stay!
* during a pets stay of longer than 1 night.
Requirements: Current vaccinations, including Rabies, DHLPP or FVRCP, and Kennel cough (Bordetella) are required for your spa-influenced stay. If your pet has fleas upon arrival, there is a mandatory treatment to protect the boarding facility as well as other guests.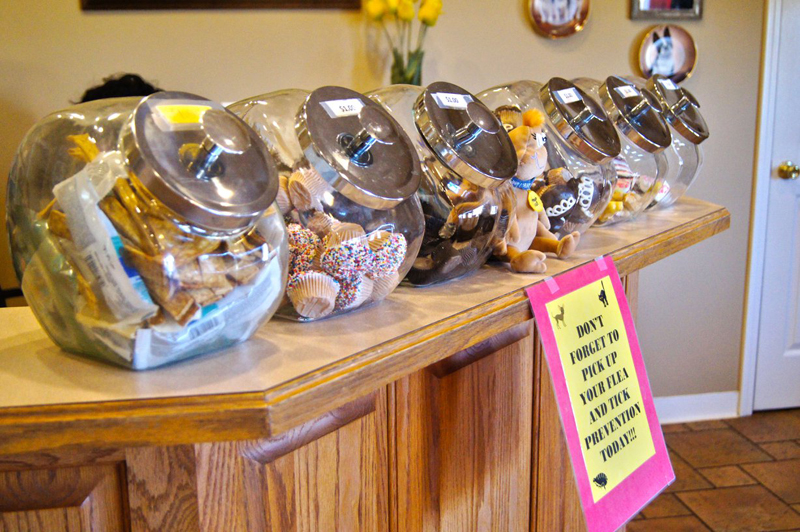 Choose a healthy and delicious snack and we will serve it up during the times you request

Our facility features the very latest in fire, security, and video surveillance technology
All dishes and bedding are maintained in high temperature commercial equipment and our sanitation, housekeeping and health screening
procedures all combine to promote a happy and healthy stay
All of our guests are fed with a veterinary chosen diet or you may bring your pet's usual food
Our on-call veterinarian is available, if needed
Every pet suite can have an item from home such as one of your t-shirts, a shoe, or a sock for a calming reminder of you
Add on dental prophy/polish
Daily supervisory visit by a veterinarian
Medicated baths/cream rinses
Experienced veterinary assistants
Daily play time