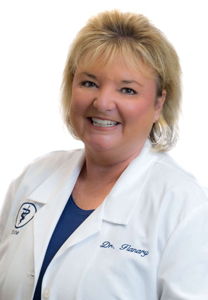 Dr. LaNita S. Flanary DVM
Veterinarian / Owner
LaNita S. Flanary, DVM owns and operates the Flanary Vet Clinic which was built in 1997 in the Reidland community. LaNita was born and raised on Husband Road in Paducah, surrounded by many animals on her family farm. She attended Farley Elementary and Reidland Middle and High School where she achieved many honors. She was the Kentucky State Farm Bureau Outstanding Youth, Kentucky State FFA Secretary, and Reidland High School Valedictorian with a 4.0 grade point average. Through scholarships, she completed a pre-vet curriculum at Murray State University and as a junior she was accepted early to Auburn University's College of Veterinary Medicine. LaNita graduated summa cum laude from Auburn in 1995.
For fun, LaNita still enjoys being with her menagerie of animals consisting of cows, chickens, horses, pigs, rabbits, sheep, dogs, ducks, geese, and cats. But most of her heart belongs to Ellie, her Bernese Mountain Dog, Polly, her mixed breed dog and her Pomeranian Fancy Foo Foo Flanary. But Bitsy, her first Pom and best friend will never be forgotten. 
Besides her girls, she also has…
Several rescue cats

Potbellied Pigs

 Nigerian Dwarf Goats

Jersey Cattle

Miniature Zebu Cattle

and many bantam chickens, ducks, and geese

.
Melissa
Office Manager
Melissa started in the kennels at age 16 and has worked every position since. She loves the bonds she builds with clients and has been at Flanary since 2008. Her compassion for animals and their families has motivated her to do her best daily. Melissa is married to her wonderful husband, Michael and has three amazing boys: Nathan, Dylan and Matthew. When she is not at work, she is with her family, pets, and can be found scrapbooking.
Rachel
Licensed Veterinary Technician
Rachel is a licensed veterinary technician who has been in the veterinary field for over fifteen years. When she was in high school she was a part of the original team that helped open FVC. She loves being able to help the sick animals in the best ways possible. Her favorite qualities of FVC are that we constantly strive for excellence and surround ourselves with a team that feels like family. She is an outgoing and hard worker who can be found training and competing in barrel horse competitions outside of FVC.
Samantha
Licensed Veterinary Technician
Samantha graduated from Murray State with a B.S. in Agriculture with a pre-veterinarian major. She feels that the most rewarding part of veterinary medicine is being able to assist in and witness the improvement of sick patients. Her favorite part about working at FVC is that she gets to work with a variety of animals while being a part of a close knit and knowledgeable staff. She has an outgoing and positive attitude that helps her shine on the FVC team. Outside of work, you can catch Samantha spending time with her daughter and enjoying several outdoor activities.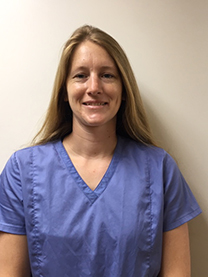 Jamie
Veterinary Technician
Jamie is 34 and married with 1 son. She has worked as a vet tech for 10 years. She enjoys horseback riding and spending time outdoors. She has 5 dogs , 4 horses, 2 mini horses, 1 cat and a nigerian dwarf goat.
Annalise
Veterinary Technician
Annalise graduated from WKU with a B.S. in Agriculture and loves being in the veterinary field. She has a positive attitude and bubbly personality that can make any task fun. She loves the veterinary field because it allows her to pursue her passion for caring for every animal as if it were her own. Her favorite thing here at FVC is all of the interesting cases we see each day. Aside from work, Annalise can be seen spending time with her wonderful husband, Daniel and son, Emmett or watching her favorite shows on Netflix.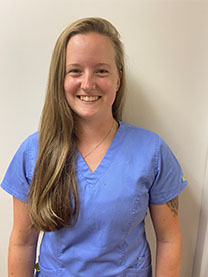 Colleen
Veterinary Technician
She is graduating in August from Murray State University with a pre-vet major and an equine science minor. She plans to get licensed in November and continue her work as a vet tech. She has always had a passion for caring for animals and is thrilled that it's something she can do for most of her life. She has two cats that have her whole heart and in her spare time she will either be napping with them or doing something outside, preferably at a lake!
Cailyn
Veterinary Technician
She graduated from Murray State May 2021. She has been in the field for about 7 years and working with animals is her passion! She loves working in a field where she can do what she loves! She has two dogs that are like her children, named Duck and Goose!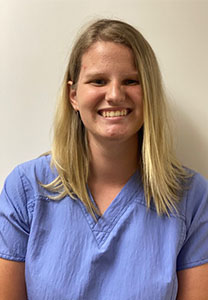 Bailynn
Veterinary Assistant
Bailynn has been working in the veterinary field since she was 13 years old. She is currently attending Murray State University for her B.S. in Agriculture, and is applying to veterinary school this year. She finds the most enjoyment in helping both clients and patients as well as working with exotic animals. Her favorite part of working at FVC is learning everything she can about veterinary medicine and working with everyone on the team. Outside of the clinic, she loves to ride her horses, care for the animals on her farm, and spending time with her family.
Kayla
Veterinary Assistant
Kayla has been in the veterinary field since she was fifteen years old. She began working in the kennels here at FVC but is now a surgical and veterinary assistant. She graduated from Murray State with a B.S. in agriculture and is continuing her education at Auburn University Veterinary College. Kayla finds the most joy in being able to help improve a patients well being in every way possible. Her favorite part about working at FVC is that she gets to expand her knowledge daily while becoming closer to her dream. Outside of work, you can catch Kayla riding her horse, working her goats and sheep, and dedicating time to her studies.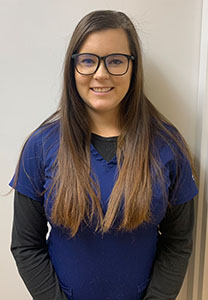 Lauren
Veterinary Assistant
Lauren has worked in the veterinary field for eight years. Starting as a kennel worker and moving her way up. She loves the help she is able to offer and the bonds she gets to create with patients and clients. Lauren will graduate from Murray state in December of 2021 with her BS in agriculture. She will then obtain her license. In her free time she enjoys horseback riding and traveling.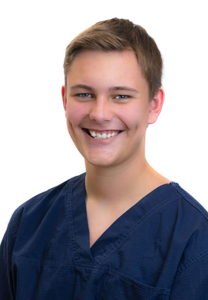 Kurtis
Kennel Assistant
Working at Flanary Veterinary Clinic since 2016, Kurtis has a excellent work ethic and a "can-do" attitude. He joined Flanary because he loves animals and has a passion for helping them live the best lives possible. He gives his coworkers credit for the productive and fun work environment that helps make everyday a great one. When not working at the clinic, Kurtis studies hard for school and enjoys the company of his family and friends.
Dena
Kennel Assistant
Dena is our Kennel Assistant and as of 2019 she has been in the veterinary field for fifteen years. She enjoys working with animals daily. Her favorite thing about Flanary Vet Clinic is that she gets to improve her skills and knowledge every day about the care of pets. When not working, Dena is spending time with her husband and two boys, doing a number of outdoor activities, or even reading a book with her cats.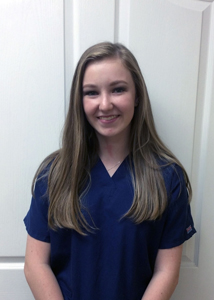 Haley
Kennel Assistant
Before working at Flanary Veterinary Clinic, Haley volunteered here for a year. She is interested in the veterinary field because she gets to see animals get better and stay healthy and happy. She loves the staff and dogs that regularly come in who she gets to bond with. When not working here, she enjoys school and spending time with friends and family.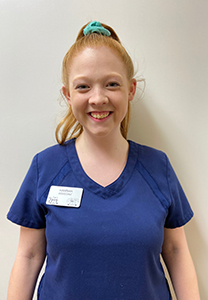 Hannah
Kennel Assistant
Hannah was a volunteer for over a year with us before officially joining our team. She is a very fast and eager learner who can bring a smile to anyone's face. She has known since she was six years old that she wanted to pursue a career as a veterinarian. She enjoys helping animals in any way she possibly can. Outside of work, you can catch Hannah skating with her friends, cuddling with her cats, or focusing on her school work.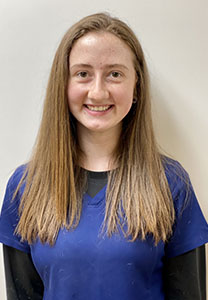 Kayli
Kennel Assistant
Kayli plans to attend Murray State University where she will study Pre-Vet to later pursue a career as a veterinarian. She loves working at the clinic and learning from Dr. Flanary. Kayli likes hiking, being with family, and spending time with all her pets which include chickens, dogs, and cats.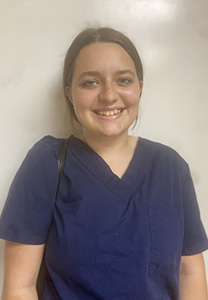 Dacey
Kennel Assistant
She has known since she was very young that she wanted to be a veterinarian. She loves to help animals and really enjoys working at FVC and learning all she can. When she is not at work she enjoys spending time with family and friends, being outside and going to school.
Kinsey
Receptionist
Kinsey Grew up in Las Vegas, Nevada and moved to Paducah, Kentucky back in May of 2020. She has worked in the animal field since she was 16 years old. She has 2 dogs named Radar and Maggie. She is excited to be apart of the team and expand her knowledge with FVC.